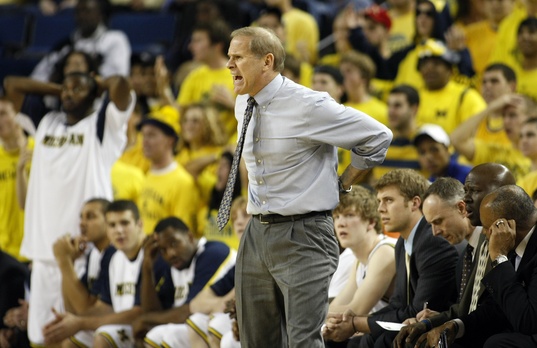 ON BASKETBALL
Despite most people saying that Purdue dominated the entire second half of its 80-57 thrashing-that-wasn't-a-thrashing-until-the-other-team-quit over Michigan Tuesday in the teams' Big Ten opener, the truth is that the Wolverines played the Boilers fairly even for the first 12 minutes of the half.
Then coach John Beilein made his biggest blunder, calling timeout with the Wolverines trailing just 57-49 — four points worse than their 30-26 halftime deficit — and putting his team in its shaky 1-3-1 zone.
Seconds later, Ryne Smith found himself wide, wide open on the right wing and proceeded, quite casually, to knock down his fifth 3-pointer in six tries.
Purdue led by 11. Michigan's effort slacked off. And the game, just like that, was over.
Afterward, Beilein wasn't asked about his decision to go to the zone. After a 23-point defeat, that might have seemed like too pointed a question. After all, it was one lousy possession of many on which the Boilers got what they wanted offensively.
Rather, the best question asked was about how to get a young team like the Wolverines to remain focused on both ends of the floor.
"It's pretty difficult to go from one end of the floor to the other," Beilein said. And then he repeated himself: "It's hard to do that. It's hard to focus both ways for our team."
Of course, he's right.
If the Wolverines (10-3) are going to put together a respectable Big Ten record, they're going to need to meet that challenge and compete for 40 minutes on both ends. On Tuesday, they put together about 15-16 good 94-feet minutes.
But doing that starts on one end for this group — the defensive end.
Why? Because when the Wolverines play good defense, it will usually translate — against tough, defensive-minded foes like Purdue — into easier offense.
Against the Boilers, Michigan looked lost and scared in its halfcourt offense against Purdue's set D. Even with Darius Morris running the show, the Wolverines often found themselves out near midcourt with the shot clock nearing expiration, forced to make a last-ditch effort at a decent shot.
And each time Purdue scored on the other end, it meant another halfcourt possession for the Wolverines — not to mention a larger deficit to think about (Michigan led just once, for 10 seconds, 26-25).
On the other hand, the Wolverines were most effective on the offensive end after a missed shot or turnover by the Boilers. While they didn't get many fast-break opportunities, they scored the majority of their buckets during a 19-4 first-half run on the secondary break, as Morris created open looks for teammates before Purdue's defenders got set.
During Michigan's best stretch, Stu Douglass and Evan Smotrycz each drilled a pair of open, in-rhythm 3s, Douglas made a layup against an unsettled Purdue defense and Jon Horford got a transition dunk to give the Wolverines that short-lived lead.
It all started with stops and forced turnovers on the other end.
Beilein saw things the other way around, saying, "We had some really bad lulls offensively, which really led to some bad defense."
Which, of course, is true. But getting stops on the defensive end, especially during a second half in which Purdue shot 63.3 percent, might have, in turn, created better offensive opportunities for the Wolverines.
Michigan managed to almost keep pace for those first 12 minutes, and during that timeout I thought the game was far from over. But after that horrible defensive possession — Beilein was desperate for a stop so he tried to switch things up; the players weren't ready for it — the Wolverines didn't have enough gas and resolve left to continue trading barbs with one of the Big Ten's best.
They'll get a short reprieve, if you can call it that, with another home game against Penn State Saturday. It's a must-win on a daunting schedule that is followed by a game at Wisconsin — I can't remember the last time they won there — and a nice non-conference break contest at Crisler against, oh, No. 3 Kansas.
To survive such a haunting schedule, the Wolverines need to be much better on defense. Do that, and those offensive lulls might just take care of themselves.