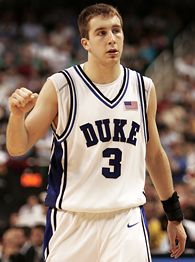 ON COLLEGE BASKETBALL
Memo to North Carolina fans: Maybe if you stopped hating
Greg Paulus
so much, he'd stop playing so well.
Paulus, a former high school stud quarterback, has reveled in being at the center of things this season, and Wednesday night was no different. Duke's point guard lit up the Dean Smith Center for 18 points on 6-for-8 shooting from 3-point range. Thursday morning, sitting in a room full of UNC fans, everyone talked of how they absolutely can't stand Paulus.
But they could have used him on their team Wednesday. Most of Paulus' 3s were contested, but the 6-foot-1 guard has a quick release and was able to get his shot off over contesting defenders.
UNC didn't play terrible, it was just out-manned.
Tyler Hansbrough
could only do so much.
And that's why, at this point in the season, Duke is a slightly better team. The Blue Devils simply have more scoring options — and you never know who's going to pour in 20 on a particular night.
On Wednesday, it was everybody, as six Devils scored in double figures. Additionally, five Devils knocked down at least one 3-pointer.
How do you stop Duke's attack? You hope the Devils have a bad shooting night from behind the arc like they did in their lone loss to Pittsburgh. When Paulus made a 3 less than 20 seconds into the game, I got the feeling it was going to be a good shooting night for the Devils, which was bad news for the Tar Heels.
If you check out the box score, UNC made just two less field goals than Duke (30 to 28) and made three more free throws (19 to 16) — numbers that would equate to a one-point Duke win if the 3-point shot didn't exist.
The arc killed the Heels Wednesday night. While Duke made 13 of 29 long-range bombs, UNC managed to hit just three of 17.
I wasn't surprised. Not only do the Devils shoot the 3 well, they also defend it extremely well. In all eight of its ACC games, Duke has not allowed a team to make more than four 3s, and its opponents have shot a combined 28-of-101 (28 percent) from downtown.
Duke haters might call that luck, but the truth is that the Devils are willing to give up the occasional easy inside shot as long as they don't surrender the open 3. In college basketball, nothing swings momentum like a made 3-pointer — especially back-to-back 3s. Only once did the Heels have the momentum — when they ended the first half on an 8-0 run to pull within 42-39. But the momentum was gone in the second half, and Duke gradually built its lead en route to the 89-78 win.
While Hansbrough gave another workmanlike effort with 28 points and 18 rebounds, he didn't get the perimeter help he needed. Duke was all over UNC's top outside shooter,
Wayne Ellington
, forcing him into a miserable 3-for-14 shooting performance, including zero makes out of six 3-point attempts. Sixth man
Danny Green
was even more off, not scoring until he hit a late 3 and finishing 1-for-10 from the field.
Obviously, the Heels missed point guard
Ty Lawson
, whose ankle didn't feel great before the game, causing
Roy Williams
to tell him to sit out. The Heels weren't able to get out on the fast-break with Lawson sidelined, and Lawson has also improved his outside shot this season. Assuming a full recovery, Duke-Carolina Part II should be very intriguing come early March.
But what happened, happened. And I'm not even sure Lawson would have made a huge difference. The Devils' system is predicated on running, so I don't think UNC would have wanted to get into a track meet.
As it was, Duke thrived in the half-court because of its ability to shoot the 3. When
Kyle Singler
sets a pick out top for Paulus, it's almost impossible to guard. Here's why: If Singler's man doesn't hedge on Paulus, the point guard will quickly pull up for an open 3. If he does hedge, Singler is usually pops open for a 3 — and for a 6-8 guy, he can shoot it from outside.
Singler's and Paulus' 3s a minute apart late in the second half helped to keep Duke's lead at nine, and UNC didn't get much closer until the final minute when it was too late.
The good thing for the Heels is it's only early February. In retrospect, Wednesday's result won't matter come the big games in March. By then, Lawson will likely be healthy and the Heels will be an improved team on both ends of the floor.
The good thing for the Devils is they're on a roll right now and they're showing no signs of letting up. All season long, they've been doubted because of their lack of an inside presence. But will anyone remember that they were out-rebounded by 11 (49-38) Wednesday? Maybe
Mike Krzyzewski
and his staff in preparing them for future games, but nobody else.
The truth is that the Devils have the players to win a national title. Their leader,
DeMarcus Nelson
, had a poor game Wednesday, making a mere three of nine shots to score 13 points and playing just 23 foul-plagued minutes. If Hansbrough — easily UNC's most important player — had scored below his average or been in foul trouble, the Heels would have lost by a lot more than 11.
These teams are still very evenly matched, and there remains a chance Duke could stumble before the rematch March 8, giving UNC a chance to snare a share of the ACC title when the teams face off inside Cameron Indoor Stadium.
But for now, the national rankings have got it right: Duke is No. 2 and UNC is No. 3.