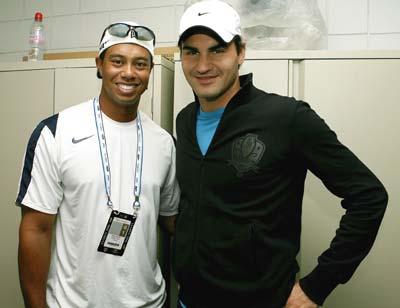 So we've reached the dog days of summer.
The basketball and hockey seasons are over. Football season is still more than two months away. And there are too many baseball games remaining to start talking about pennant races.
This means, of course, that it's a good time to talk about the individual sports that garner the most attention in this country -- tennis and golf. And when mentioning them, you have to start with two names:
Tiger Woods
and
Roger Federer
.
The similarities between the stars are striking. While Woods, 33, has six years on the 27-year-old Federer, consider these numbers.
Woods has won 67 golf tournaments during his professional career. Federer has won 59 singles titles and 67 overall titles if you include doubles.
Woods has won 14 major championships, leaving him four shy of
Jack Nicklaus
' all-time record. Federer also has 14, tying him with
Pete Sampras
for the record.
Oh, and they pose together in commercials for Gillette.
Both athletes, clearly, have had remarkable careers and will be remembered at least among the top two or three players in their sport if not the best. But whose accomplishments are more impressive?
Federer, to me, is amazing because of how quickly he burst onto the scene. He didn't win a grand slam until Wimbledon in 2003. And then he won three in 2004, two in '05 and three in both '06 and '07. He's added a single title each of the last two years and is vying to add to his '09 total as I write this.
Woods, on the other hand, turned pro in 1996 -- three years before Federer consistently competed at that level -- and has spread out his major titles a little more than his tennis sage counterpart.
He has won a major in nine different years and only won three of them in one year (2000).
Does that make what Woods has accomplished less impressive than Federer's quick rise to the top?
I don't think so. You have to look, rather, at Woods' consistency. He plays a sport in which guys can be competitive until they're 50 -- just consider
Kenny Perry's
run at the Masters -- and he's always in contention at majors.
No one doubts that Woods, as long as he stays healthy, will eventually break Nicklaus' record. We'll just have to wait awhile -- maybe more than five years.
Federer, on the other hand, is on the verge of breaking Sampras' mark. He could do it in less than two weeks at Wimbledon, where for a second straight grand slam he won't have to face his nemesis,
Rafael Nadal
.
He probably will.
Just like Woods, Federer's consistency is astounding. In a tennis majors, where seven wins (and 21 sets) are required to take home the championship, one bad match will doom you. As Nadal learned on his dominant surface of clay at the French Open, it can happen against anyone.
Nobody in the modern era has been better than Federer at coming out for every match ready to go.
In a golf major, there's not quite as much pressure. Woods can shoot a 74 in the opening round and still rally to win the tournament. He doesn't have to shoot four 66s.
So in that respect, winning seven tennis matches is a little more difficult than winning a golf major.
But then you must consider the game of golf and the tricks it plays on not only your average hacker, but the No. 1 player in the world. Woods has to deal with bad bounces, with putts that feel perfect and roll wide and, of course, with players who get those lucky rolls to jump into contention.
Federer has more control over each of his shots and where they end up.
To simplify, Woods plays a much tougher sport.
Which brings me back to square one: Who, up to this point in their career, has been more impressive?
My conclusion: Right now it's Federer, because of how quickly he's accumulated his wins.
But let's compare the numbers again in 10 years, when R.F. will likely be in the gallery, retired, watching Woods continue to play as the world's best golfer.