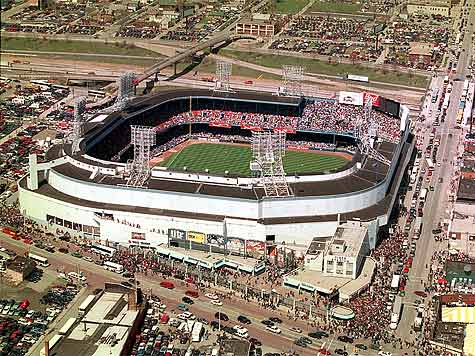 ON BASEBALL
Tuesday could be a very sad day in Detroit.
That's when a Detroit City Council will vote on whether certain remnants of Tiger Stadium should be preserved. To me, the thought of driving in on I-96 and not seeing the old stadium stings. It will be hard for me the next time I drive to a Tigers game.
If my summer baseball trips the past few years have taught me anything, it's that you can't replicate an old stadium. You can hire the smartest, most decorated stadium architect. It doesn't matter. In 21st century America, new stadiums simply have a different smell.
Last month I visited Yankee Stadium for the first -- and almost certainly last (unless someone hooks me up with free tickets) -- time. Every moment of the five-plus hours I spent inside the stadium was special. I forgot for one night that I detest the Yankees. The old building made me forget.
A quick four reasons why the old Yankee Stadium is so great:
1. The upper deck. That's where we sat. There's no way I could afford a lower-deck seat. But the upper deck at Yankee Stadium is fine, because it hangs over the field. Even sitting way out in left field, I felt closer than I ever have sitting in Comerica Park's upper deck. I even had my glove out the entire night, thinking a home run could reach me -- something that was easily verified during the Home Run Derby last week.
2. The scoreboard. It was so simple, so old-school, any baseball purist had to love it. The names of players were displayed. Batting average, other statistics, etc. There was nothing fancy about it. Why would there be?
3. The lack of Ferris wheels. There was no attraction within the ballpark that had nothing to do with baseball. If you're going to a Yankees game, you're going to see the Yankees. You're not going to take your kid to the amusement park or see how fast you can still throw a ball. It's all about watching the Yankees.
4. The fans. Nothing against Detroit, but Tigers fans these days can be pretty ignorant, like when they boo
Todd Jones
for a save he didn't even blow. Yankees fans, on the other hand, knew what they were talking about. And they made plenty of noise, especially when the hallowed
Mariano Rivera
came in to pitch the ninth. He deserved the applause.
In a year, don't expect a similar experience at the new Yankee Stadium. The only good thing about it will be that it's not "Hewlett Packer Stadium." Poor people like me won't be able to afford tickets. The architecture won't be the same, instead providing a better view for the wealthy lower-level fans and screwing the upper-level mionions.
And, of course, there will be a Ferris wheel -- or some variation of one.
These old stadiums need to be relished, because once they're gone, they're gone. If you're a baseball fan next season, the two stadiums you have to visit if you haven't already are Wrigley Field and Fenway Park. And make Dodger Stadium your No. 3 destination.
All the other ballparks can wait. Sure, there are small variations among them. And Baltimore's Camden Yards is the best of the bunch. But they're all similar. They all fall into the same modern-day ballpark mold. The mold that makes millions for the team, but doesn't give the baseball fan like myself a better experience.
When Tiger Stadium was abandoned despite still having plenty of baseball left in it, I was devastated. It had been the ballpark I'd grown up visiting. I had sat everywhere within it and loved every seat I occupied (except for the time I had an obstructed-view chair). It had that baseball smell. That's what it was all about.
But along came Comerica Park, and no, it didn't solve any of the Tigers' problems. The team stunk up the joint until the magical season of 2006. Can you imagine how special that summer and early fall would have been inside the old confines? There sure wouldn't have been any fans riding the Ferris wheel during a playoff game!
Of course, it's usually about money. And the Tigers of 2008 are much richer than the Tigers of 1998. Who would have ever thought a decade ago that
Mike Ilitch
would make them one of baseball's biggest-spending teams? Not I.
But I'd trade
Miguel Cabrera
for the old stadium in a heartbeat. There are plenty of Cabreras out there. There is -- and soon we'll be saying "was" -- only one Tiger Stadium.
Here's to hoping that Red Sox and Cubs fans hold on as long as they can.
Stadiums like Fenway and Wrigley can't be replicated.