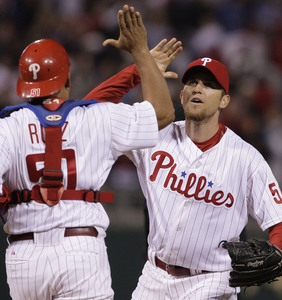 ON FOOTBALL
If Phillies fans are still extremely nervous about their team's fortunes in this World Series — even after a solid Game 1 win, 3-2, in St. Petersburg, among the cowbells, Wednesday night — I completely understand.
After all, in the franchise's dismal 125-year history, it's won a single championship in 1980. (Yep, that's right: Even the lowly Cubs, with their back-to-back titles in 1907 and '08, have twice as many.)
So "optimism" is not a word thrown out in the streets of Philly, especially when not a single of the city's four major-sports teams has won a championship since the 76ers in 1983. There will be no celebrating, no champaign toasts, no burning of couches/cars/cheese steaks until the last out is recorded, until the Phillies have won four games against the Rays.
That's just knowing your team.
But if there is a comfort blanket on this Philadelphia team, someone whom Philly fans can place at least a tad of trust in, it's
Brad Lidge
.
Forget
Mariano Rivera
(and his Hall-of-Fame career and dominance in the playoffs). Forget
Francisco Rodriguez
(and his single-season saves record). At this moment in time, Lidge is the best closer in baseball.
What makes a closer good — besides, of course, not blowing a save all season? When you're watching a dominant ninth-inning pitcher, you just
know
that he will get the job done. Your heart might tell you there's a chance he will slip, he will lose the slim one-run lead thanks to one bad pitch, but your mind — your most trusted source of smarts — tells you there's no chance. It's over.
That's what I think when Lidge takes the mound.
So when the Rays brought up the middle of their lineup —
Carlos Pena
,
Evan Longoria
and
Carl Crawford
— to face Lidge in the bottom of the ninth, I was positive he would finish the job. I didn't necessarily think he'd be as dominant as he was, striking out Pena and Longoria on nasty sliders before getting a foul popout to close it, but I knew he'd finish the Phillies' victory.
Only the best closers give me that feeling. This season, anyway, Lidge is one of those guys.
He has all the key ingredients of a top-notch closer:
1. He gets ahead in counts and has a good fastball that he's not afraid to throw down Main Street for that first strike.
2. He has the nasty "out pitch," his slider, which fools hitters even when they're expecting it.
3. He has a great presence on the mound, never getting flustered when a baserunner or two may reach.
4. Finally, he has proved over the past couple weeks that he's just as good in October as he is during the regular season. All closers must prove this before they can gain elite status.
Lidge's steadiness has to be especially cathartic for Phillies fans who witnessed the
Mitch Williams
Debacle in the 1993 Fall Classic. That memorable series was capped off with Williams giving up a ninth-inning, three-run homer to Toronto's
Joe Carter
, which won the Blue Jays a second consecutive championship in six games.
It was Williams' second blown save of the series. In an incredible Game 4, Toronto came back from a 14-9 deficit with six runs in the eighth inning, three off Williams, to win 15-14. Williams got the loss and death threats from angry fans.
The 1993 experience had to have scarred many Philly fans for life, and there may be some who will never trust another Phillies closer. But Lidge is one man who can be trusted, if "trust" is indeed still a word in the City of Brotherly Love.
Unlike the long-haired, often erratic Williams, Lidge is calm, cool and collected when on the mound. Sure, he shows emotion after a big strikout or a critical double play, but that's natural and it doesn't affect his approach toward the next hitter.
Now, I have to stand by my predicition that Tampa Bay will win the Series in six games, but let me add this: If the Rays want to win their first World Series, they better figure out a way to get leads before the eight inning. Yep, even before Lidge takes the stroll in from the bullpen, because he's got a nasty setup man in
Ryan Madson
, who set down three consecutive Rays Wednesday.
Madson and Lidge give Philly a nasty eight-nine punch at the end of games. A comforting combo, if you will, for those never-been-kissed Phillies followers.
This Fall Classic could be dramatic, could be heart-throbbing. But this much I'm convinced of, Philadelphia:
There will be no repeat of the end of the '93 Series. Your closer won't be on the mound, watching as an opposing hitter rounds the bases celebrating a walkoff dinger.