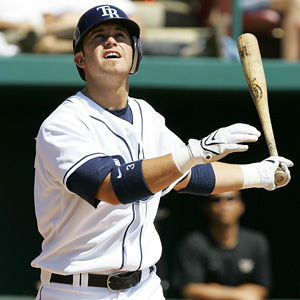 ON BASEBALL
Welcome to the party,
Ryan Howard
.
Still invited to the party, but yet to make an appearance:
Carlos Pena
and
Evan Longoria
. It's almost over, fellas, appetizers are long gone, last call for drinks, doors are closing.
And that, folks, is a big reason why this is where we sit:
Phillies 3, Rays 1.
The city of Philadelphia is ready to explode as its citizens — and outsiders with connections to the city, such as myself — sense the first major-sport championship in 25-plus years. If any city deserves a title, it's Philly (although, yes, Cleveland sports fans certainly have a case).
Not that this thing is over. Any knowledgeable Philadelphia fan would tell you this. They know the heartbreak that can occur in their city. There won't be any healthy rioting until the last out is in the books.
But unless two Rays bats wake up, it's only a matter of time.
Stat of the series: Pena and Longoria, two of Tampa Bay's most potent bats, are 0-for-29. That, in a word, is ghastly. With their No. 3 and 4 hitters somewhere in Panama, the Rays are lucky this thing isn't over yet. They're lucky those riots aren't occurring right now.
Meanwhile, Philly's big bat has finally come alive. Howard, who is fascinating because of how bad he can look one at-bat before smoking a long ball the next time up, has done a lot of the latter in Philly's two home wins. The regular-season home run champion hit his first round-tripper of the postseason in Game 3, and Sunday night he connected on a pair.
Howard's three-run shot, off a breaking ball — usually his weakness — and to the opposite field, was the Shot Heard Round Philly, extending the Phils' tenuous 2-1 advantage to 5-1. From there, the final innings were academic.
The Phillies hit another pair of long balls, including Howard's second. The Rays, meanwhile, continued to get nothing from the middle of their order and squandered quality scoring opportunities in the sixth and seventh innings.
By the eighth, you knew it was over. Trailing 6-2, there should have been a sliver of hope for the Rays. After all, Pena, Longoria and
Carl Crawford
— the "meat" of the order — were due up. But in this Fall Classic, the meat has been rawer than raw. And Pena and Longoria further proved this, meekly striking out before Crawford grounded to second.
For comparison's sake, Philadelphia's No. 3 hitter,
Chase Utley
, hit the key two-run homer in Philly's 3-2 Game 1 win and also homered in the most dramatic game of the Series, the Phillies' nutty 5-4 win Saturday night/Sunday morning.
Howard is a prime candidate to be named the MVP if the Phillies can close it out. Besides the three home runs and the five-RBI performance Sunday, he's hitting .353. His manager
Charlie Manual
wasn't kidding when he said that Howard, and his wide shoulders, could carry the team to a championship.
Of course, he's getting plenty of help. You know things aren't going the Rays' way when
Joe Blanton
— large, pudgy pitcher Joe Blanton! — hits a no-doubt shot over the left-field wall. It was the Game 4 starter's first career home run, and at the most opportune time.
But Blanton didn't need the run. Or Howard's five RBIs, for that matter. Just like
Jamie Moyer
a night earlier, Blanton was the better starting pitcher. Most pundits, including yours truly, thought the back of Tampa's starting rotation would be stronger than the Phillies'.
Shows what we know.
We also thought Pena and Longoria would continue to hit like they had all season and into the playoffs.
Um, wrong on that one too.
What has happened is this: Despite continuing to struggle mightily with runners in scoring position, the Phillies have scored enough runs for the commanding 3-1 series lead. Credit Utley, Howard and company — Blanton included — for stroking a few momentum-snagging long balls into the dark sky.
And the City of Brotherly Love is on the brink of a large, unabashed love fest.
Unless the Rays' big bats wake up.
ASAP.