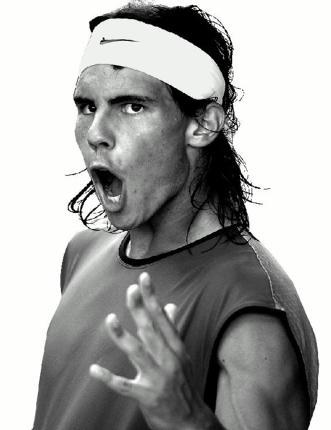 ON TENNIS

Rafael Nadal
is akin to the Utah Jazz of the late 1990s.
While the
Karl Malone
-,
John Stockton
-led Jazz made the NBA Finals in consecutive years, both times they were sent home weeping by the
M.J.
-led Bulls.

Roger Federer
has been the bull in the way of Nadal.
Yes, Nadal has won three straight French Open grand slam titles. Not bad at all for the 21-year-old. But just imagine how many more grand slams he would have if not for Federer.
Nadal lost in the last two Wimbledon finals to Federer, and there were other occasions where the world's No. 1 stopped Nadal en route to another grand slam.
But the difference between No. 1 and 2 is closing. I'm not doubting Federer's ability (that would be as bad of an idea as jumping in Lake Michigan right now). Rather, I'm loving Nadal's recent play.
(And I'm salivating over the possibility of a Nadal-Federer final in the Australian Open.)
Last night, Nadal overcame great first-set play by
Jarkko Nieminen
to defeat the 24th seed 7-5, 6-3, 6-1.
Nadal appeared close to flawless in advancing to the semifinals. As healthy as he's been in quite sometime, Nadal was able to cover the entire court while spraying an array of shots to fight off the energetic Nieminen.
Afterward, Nadal said it wasn't his best tennis. If he can win quarterfinal matches in straight sets without playing his best, watch out in the next round.
Federer, meanwhile, has looked human this tournament. In the third round, he was pushed to a fifth set by
Janko Tipsarevic
— a result I was shocked to see after I had fallen asleep before the match became very interesting.
And now Federer has a difficult trek to the final. While Nadal has just a semifinal against unranked tournament surprise
Jo-Wilfried Tsonga
, Federer faces a quarterfinal against James Blake — who is playing extremely well — and then a possible semifinal versus young No. 3 seed
Novak Đoković
, who gave him a battle in last year's U.S. Open final.
I wouldn't be (that) surprised if Federer is upended.
But let me catch myself. What separates Federer from the rest isn't just his talent, but his will to win, his clutch shots when the pressure reaches its peak. Will an opponent be able to match him in this category? Will Nadal get that first grand slam win off clay?
I like the Spaniard's chances.
But until it actually happens, he'll remain the Jazz to Federer's Bulls. So close, yet so far.