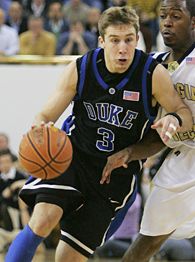 ON COLLEGE BASKETBALL
It was beginning to look very, very familiar.
A 17-point lead was out the window. So was all momentum. To add to the fire, a raucous crowd was cheering against them, heckling them every time down the court.
Late in the second half of Duke's game at Florida State Wednesday night, the Blue Devils were getting bullied around. They couldn't hang onto the ball, they turned the ball over, and on the defensive end, the Seminoles were driving to the basket at will.
After FSU took its first lead since early in the game, it appeared the Blue Devils were headed for their second loss of the season — again, because of being out-muscled, out-toughed down the stretch.
But after precocious freshman
Kyle Singler
drained a 3-pointer for a 57-55 lead, Duke got tough, got nasty. When feisty point guard
Greg Paulus
came up with a big rebound in the final two minutes, a scramble ensued as FSU players piled on and Paulus kicked his feet outward. It wasn't a pretty sight, but it was what the Devils needed on the way to their 70-57 victory.
Until the end, Duke had played too finesse of a game. With Duke holding onto a 54-53 lead, ESPN analyst Jay Bilas said, "These last four minutes, it's going to be about which team is tougher."
Bilas was right. I was wrong. I thought FSU was the tougher team. I thought the Seminoles would pull off yet another comeback victory over the Devils. Everything was pointing in their direction.
But then something changed. That something was the play of Paulus.
First Paulus got a steal and a layup to give Duke a five-point lead. Then he iced the game a minute later, after running down the shot clock, by taking the ball strong and laying it up over a taller defender.
The junior point guard had played poorly the game's first 35 minutes. But when the Seminoles made their big push, he stepped up and toughed out a win.
Wednesday's game was Duke's first real road test of the season. In the ACC, it'll face several more. Just look at how difficult it was for No. 1 North Carolina to beat last-place Georgia Tech 83-82 on the same night.
The Devils will need to play stronger as the ACC slate progresses. Led by Paulus, who received a big hug from coach
Mike Krzyzewski
afterward, the Devils landed a meaty right hook Wednesday.